Delivery
Ordered before 12:30 PM, shipped the same day

If the products are in stock, we will ship your order on the same day if placed before 12:30 PM. Our products are usually delivered within 1-2 working days in the Netherlands by the Dutch postal service PostNL or courier service DHL. Different delivery times apply to other countries. If our supplier doesn't have it in stock, the delivery time may vary. We will keep you informed if the delivery time exceeds 14 days.
Delivery Time
The products you order will be delivered to the address you provided via PostNL or DHL. The delivery times of DHL apply in this case. This means that deliveries can be made during the day. If you're not at home, a form will be left in your mailbox indicating the nearest location where you can pick up the package, or they will attempt delivery to your door again. Have any questions? Contact us.
Delivery
We process your order immediately after payment via iDeal, PayPal, or by bank transfer to our Rabobank account number NL36RABO0154985910.
Backorder
If there is a high demand for an item, it may temporarily be out of stock, resulting in a "backorder." In this case, you have the option to cancel the order, and we will refund the full order amount. If in doubt, please contact us!
Shipping to Your Address
This can be your business address, home address, or any other external location. It is your responsibility to provide the correct address. Always double-check your order during the checkout process. If you have any doubts about the address, it's better to stop placing the order and verify the address first. We are not liable for incorrectly entered addresses. Since you place the order yourself, you are responsible for providing the correct address.
Shipping Costs
Zone
Country
Shipping Costs incl. VAT
Delivery Time from Stock
01
Netherlands (NL)
Under €49.95 = €9.95
Over €49.95 =

FREE

SHIPPING

!
1-2 days (depending on your address)
02
Belgium (BE) & Germany (DE)
€18.50
2-3 days (depending on your address)
03
United Kingdom (UK)
€52.50
3-5 days (depending on your address)
04
Europe EU
Between €18.50 and €34.50*
*Depending on your shipping address, you will see this before checking out.
3-5 days (depending on your address)
05
Europe Non-EU
€26.00
4-15 days (depending on your address)
06
World
€83.49
4-15 days (depending on your address)
Payment
Payment Options
You can pay for your order at Ruddersafe-shop.com in various ways: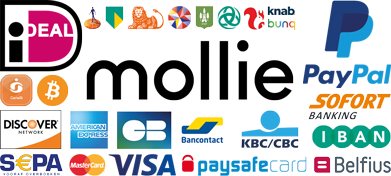 1. Bank transfer via the iDEAL payment system (via Mollie)
iDEAL is a secure, easy, and reliable payment method for online purchases. iDEAL is based on online banking. This means you pay in your trusted internet banking environment. Simply use your Digipass or Random Reader during the payment process, and the purchase amount will be debited directly from your bank account. 

2. Manual bank transfer (via Mollie) 
This method allows for quick, secure, and easy payment. With this option, you pay directly to Mollie. You will need to manually transfer the payment to the given account. Instructions for this will be provided during the checkout process. It's as easy as pie!
3. Bank transfer using your credit card or bank account through the global payment service PayPal (via Mollie) 
This method also offers quick, secure, and easy payment. 
For more information about PayPal, visit: https://www.paypal.com

4. Or choose from many other payment options provided by Mollie :)
Securely pay through the Mollie payment provider using iDEAL, PayPal, SOFORT Banking, credit card, bank transfer, and more!
For more information about Mollie, visit: https://www.mollie.com


Prices
All prices mentioned on this website include the legally required NL 21% VAT (high rate).
Returns
Items can be exchanged and/or returned. However, there is a 14-day exchange guarantee, provided the item is in stock and returned in its original condition. This means that the original packaging should include a purchase receipt, manual, any accompanying software, etc. For more information, please refer to our terms and conditions.
You can find our terms and conditions on the following page: https://ruddersafe-shop.com/en/info/terms-and-conditions
Always send us an email first to request a return (as shipping depends on your country)!

Our postal and return address is:

Shipsworld.NL B.V.
Attn: Ruddersafe-shop.com
P.O. Box 90
3788 BB Voorthuizen
The Netherlands